Highlights of The Program
The Anesthesiology Training Program at MedStar Georgetown University Hospital is a unique one. We are a comfortably sized categorical residency-training program (40 residents total, 10 residents per PGY class) with a surplus of teaching cases in three major teaching hospitals.
Resident Didactics and Conference
PGY level based morning conference (CA-0/1 and CA-2/3) every weekday from 6:30-7:00 AM
Monthly POCUS workshops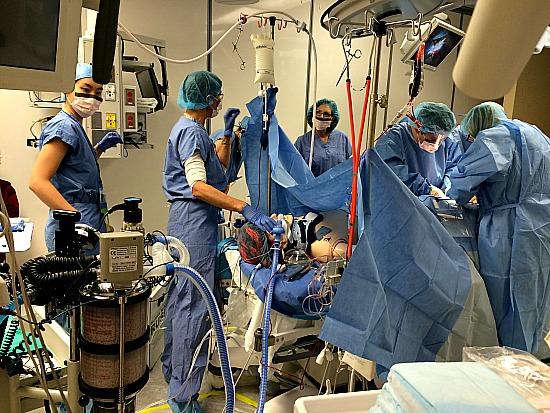 Mind Body Medicine Program
At the start of CA-1 year, residents embark on a weekend-long retreat on the beautiful Eastern Shore of Maryland, where they learn to practice meditation and mindfulness, focusing on relationship building, self-awareness, and stress reduction. Two faculty facilitators and each resident cohort meet monthly during protected non-clinical time for the remainder of the 3 year residency.
Clinical Depth
2,000 open-heart procedures/year (WHC)
Adult liver, kidney, pancreas and pediatric liver and small bowel transplants (GUH)
Level 1 trauma center and acute burn unit (WHC)
3,000 OB cases/year (GUH and WHC)
Acute, Chronic and Cancer Pain Center (GUH)
Basic and advanced pediatric cases (GUH and CNMC)
Large critical care unit with 24/7 attending coverage (GUH)
Robust CA-3 regional anesthesia rotations (GUH and WHC, as well as CA-3 rotation at Hospital for Special Surgery in NYC)
Attending Coverage
Georgetown University Hospital
– 1:2 attending to resident coverage during daytime hours
– 2 attending anesthesiologists in-house overnight and weekends
Washington Hospital Center
– 3 attending anesthesiologists in-house overnight and weekends
Children's National Medical Center
– 1 attending anesthesiologist in-house overnight and weekends
Geographic Advantages
Located on historic Georgetown University campus
Washington is unparalleled in the diversity of people, activities, and opportunities it has to offer
Georgetown University Hospital is a part of MedStar Health, which is the Largest healthcare system in Baltimore/Washington DC
Resident Support
$3,000 for books, supplies, meetings.
Full Department sponsorship when presenting at national meetings (independent of $3,000 book fund money)
ASA, DCSA, IARS memberships, ACE program, AKT and In-Training exams funded by Department
Free parking at all training sites
Competitive House Staff Salaries
Generous benefits package (health, dental, life, disability, etc).