Anesthesiology Resident Retreat
Georgetown Mind-Body Medicine Anesthesia Resident Wellness Retreat.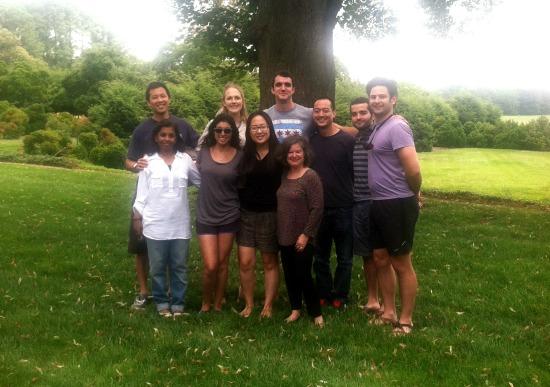 For the first time in the Georgetown Anesthesia Department, the CA-1 residents participated in a Mind-Body Medicine Anesthesia Resident Wellness Retreat. The retreat was held on August 15-17, 2014 at the Aspen Wye River Conference Center amid acres of beauty in a serene and tranquil setting.

The residents spent the weekend learning wellness and relaxation techniques from mentors Nancy Harazduk and Dr. Kumu Hendrix. As an added bonus, they biked, swam, learned yoga, and forged new friendships with each other.
Check out a gallery of the retreat experience below!
Patrick, Brent, Kasra, and Jeremy enjoying lunch at the retreat.

Sydney, Janice, and Jen having a great lunch outdoors.

Sydney, Nina, and Janice smile for the camera.

Jen getting ready for a bike ride with the beautiful Conference Center in the background.

Brent, Jen, and Janice bike by the Wye River.


The crew stares down cows as they bike by a field.


All smiles biking by a cow field

Janice, Jen and Patrick enjoy a wonderful dinner at the retreat.


Sharing a delicious meal with our mentors, Nancy and Dr. Kumu.




Jen and Patrick bathing in the sun room while mastering their meditation style



View from the conference center



The Wye River next to the Retreat Conference Center.