Spring 2015 Conferences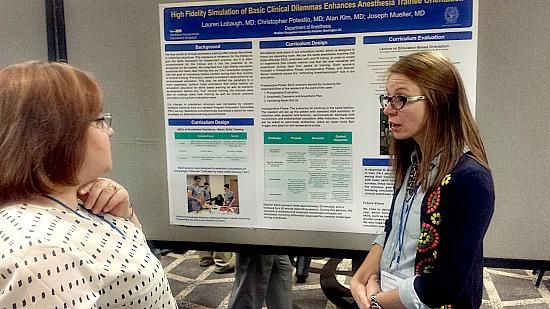 Society for Education in Anesthesia Annual Conference, April 2015
Several members of our department participated in the annual conference this April in Seattle.
Residents Dr. Lauren Lobaugh and Dr. Chris Potestio presented their findings on developing a Simulation curriculum for incoming Anesthesia residents during orientation. The study is titled "High fidelity simulation of basic clinical dilemmas enhances Anesthesia trainee orientation." Attendings Dr. Joseph Mueller and Dr. Alan Kim were also critical researchers in this study. The residents also participated in educational OR simulations. Take a look at the conference moments below.
ASA Legislative Conference, May 2015
Advocacy is empowerment. At the ASA Legislative Conference, Dr. Jen Pukish, Chris Potestio, and Candice Cody learned about the proposed legislation and policies that will shape the future of the field of Anesthesiology. See them in action in the pictures below.
SAMBA Conference, May 2015
Dr. Brent Yeung attended the Society for Ambulatory Anesthesia 31st Annual Meeting. He presented a Myotonic Dystrophy Case as well as discussed Propofol Infusion Smart Pump errors.
ASRA Conference, May 2015
Dr. James Kim, Dr. Alex Pitts-Kiefer, and Dr. Hiep Dao travelled to sunny Las Vegas for the 40th Annual Regional Anesthesiology and Acute Pain Medicine Meeting. The presentations included:
"Post-Dural Puncture Headache or Meningitis" – James K. Kim, MD, Russell Wall, MD, Hiep Dao, MD.
CRASH Conference, March 2015
Dr. Patrick Laughlin attended the Colorado Review of Anesthesia for Surgicenters and Hospitals Conference. The conference including several seminars on the new anesthetic techniques and for our changing patient population.
Lobaugh, L, Potestio, CP, Kim, A, Mueller, JJ. "High Fidelity Simulation of Basic Clinical Dilemmas Enhances Anesthesia Trainee Orientation." Presented at Society for Education and Anesthesia Spring Conference, Seattle, WA. April 25, 2015.

Residents participate in an educational OR simulation at the SEA conference.

Dr. Chris Potestio and Dr. LAuren Lobaugh stand proudly in front of their presentation

Dr. Candice Cody with a panel at the ASA Legislative Cofnerence 2015

Dr. Chris Potestio and Dr. Jen Pukish discuss political affairs related to Anesthesia at the 2015 ASA Legislative Conference

Advocacy is empowerment. At the ASA Legislative Conference, Drs. Jen Pukish, Chris Potestio, and Candice Cody learned about the proposed legislation and policies that will shape the future of the field of Anesthesiology.

Dr. James Kim, Dr. Hiep Dao, and Dr. Alex Pitts-Kiefer represented Georgetown at the annual ASRA Conference in Las Vegas

Dr. James Kim presents "Post-dural puncture headache or meningitis" at the ASRA annual conference in Las Vegas