Home Page
Welcome to the Department of Anesthesiology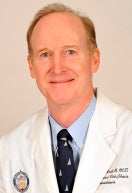 Russell T. Wall, M.D.
Chair, Department of Anesthesiology
MedStar Georgetown University Hospital
Professor of Anesthesiology and Pharmacology
Georgetown University School of Medicine
Welcome to the Department of Anesthesiology at MedStar Georgetown University Hospital. Our hospital is part of MedStar Health, a healthcare network which includes 10 hospitals and is the largest nonprofit healthcare system in the mid-Atlantic region. Our hospital proudly offers patients Centers of Excellence in Neurosciences, the Transplant Institute, Gastroenterology and the Lombardi Comprehensive Cancer Center.
Our department is comprised of 30 board-certified anesthesiologists, 22 certified registered nurse anesthetists (CRNAs), 32 residents, 4 registered nurses (RNs), and 6 office staff. We deliver over 27,000 anesthetics per year. We provide service to 32 anesthetizing sites in our hospital. All surgical subspecialties (with the exception of cardiac surgery which is performed at our sister affiliate, the Washington Hospital Center) are represented in our patient population with especially high volumes in transplantation medicine, neurosurgery, gastroenterology, orthopedics, otolaryngology, and plastic surgery. In addition, we care for a significant number of pediatric patients and high-risk obstetrical patients. We direct the Acute Pain Service and participate in Critical Care Medicine.
Outside of the operating room, our department plays an active role in our Hospital. We hold leadership positions on the Center for Patient Safety, the Blood Utilization Review Committee, the Pharmacy and Therapeutics Committee, and the Pain and Sedation Committee.
Our faculty is actively involved with our School of Medicine in the basic science and clinical clerkship education of our medical students. We participate in an annual lecture series, problem based learning seminars, and clinical conferences during the basic science years to prepare students for our junior and senior year hands-on clinical electives. Over the past 5 years we have advised, encouraged and supported over 100 of our students to make anesthesiology their career choice. In addition, we have faculty members with appointments in the Department of Pharmacology and the Department of Physiology and Biophysics.
Our residency training program strives to develop clinical leaders and consultants in anesthesiology. Our residents rotate through four outstanding hospitals; MedStar Georgetown University Hospital, MedStar Washington Hospital Center, the Children's National Medical Center, and Hospital for Special Surgery in New York. In addition, we offer a research elective at the National Institutes of Health, in nearby Bethesda, Maryland. The strengths of our program include our high-quality daily didactics (6:30 am Morning Conference), the rigor and challenge of our clinical volume, and the ability of our senior (CA-3) residents to design their final year of training. Residents receive extensive training and experience in echocardiography, ultrasound-guided regional anesthesia, and hands-on simulation training.
Georgetown University Medical Center (GUMC) is an internationally recognized academic medical center whose missions of research, teaching, and patient care are carried out with a strong emphasis on community outreach and the Jesuit principle of cura personalis – care of the whole person. More than 400 scientists and physicians conduct cutting-edge biomedical research on more than 300 clinical trials at GUMC and Medstar affiliates. Basic science and translational research emphasize the neurosciences, child health and development, cardiovascular-kidney disease, infectious disease, and cancer. Last year GUMC research attracted 100 million dollars in sponsored research, the majority coming from the federal government.
The School of Medicine, the School of Nursing and Health Studies, and the Biomedical Graduate Program are consistently listed in US News and World Reports best graduate school rankings.