November-December 2017 eNewsletter

Important Announcements
The ACGME has approved our application for an increase in resident complement. The expanded residency class (12 per year) will begin with the entering PGY-1 residents in June 2018. PGY-1 residents will be based at Georgetown with a few select rotations at Washington Hospital Center. We will continue moving forward with integrating the CBY and CA-1 clinical curriculum.
Congratulations to our senior residents who obtained their first-choice programs in this year's fellowship match: Raj Parekh (Cleveland Clinic – Pain Management) and Tiffany Minehart (Children's National Medical Center – Pediatrics).
Liz Gauthier will be completing a regional anesthesia/acute pain fellowship (not part of the match) at Duke University Medical Center.
In September, the faculty conducted our Annual Program Evaluation. We reviewed key data from the 2016-17 academic year, identified areas for continued improvement, and developed an action plan. Areas of interest include enhancing resident participation in quality improvement and safety, wellness and fatigue mitigation, and feedback and evaluation.
Our program will receive its 10-year site review from the ACGME in 2019. In preparation for this visit, we will undergo a new "self study" requirement over the next few months (due next April). Key members of the department, including residents, will be involved in this self study process. Faculty and residents will have an opportunity to review and comment on the final document prior to submission. Updates regarding progress on the self-study will be provided throughout the winter and spring.
The ACGME has recently approved the MedStar Health GME Consortium. A consortium allows a single institutional-level sponsorship of all GME programs under the umbrella of MedStar Health. This single accreditation provides a centralized and streamlined approach to the oversight of GME programs and removes the previous duplication of requirements across institutions including CLER visits, institutional updates and accreditation processes
Applications are currently being accepted for MedStar Health's Telluride Patient Safety Camp (Telluride, CO – June 3-7). This one-of-a-kind experience for residents provides a relaxed learning environment for topics in patient safety and quality improvement. All travel costs are covered by GME. Applications are due January 15.
Congratulations to Camille Cross for her selection as "Resident of the Quarter" for July – September 2017.

Dr. Slabach submitted the following nomination: I want to nominate Camille Cross for resident of the quarter. She did an amazing job working with me and prevented a possible huge complication during a ENT case. We had a patient who was latex allergic who was scheduled for a laser ENT procedure. Camille checked with the anesthesia techs and the old laser tubes were the wrong size (and the insert did not mention if they were latex free) and the new laser tubes are all latex. She checked everywhere and these were the only options. She then brought this to my attention and we had a discussion with the ENT surgeon to come up with a plan to use a regular tube and periodically extubate when they needed to laser. Everything went great during the case. But this patient will need to return in the future for more laser procedures. Because Camille was so thorough and prepared, she prevented a patient accidentally being exposed to latex and I was able to discuss with Annabelle and Karen to try to buy a different kind of laser tubes that are latex free so we can make sure to adequately take care of this patient in the future.

We are excited to welcome our PGY-1 residents who will begin rotating through our department this month. Each will complete 1 pre-surgical testing and 3 anesthesia rotations.
Faculty & Alumni News
Kumu Hendrix and Jennifer Pukish '17 gave a presentation on wellness and mind-body medicine at the annual Georgetown University Medical Center CENTILE (Center for Innovation and Leadership in Education) Conference in October.
Resident News
We had outstanding representation from Georgetown at the annual meeting of the American Society of Anesthesiologists this past October in Boston, MA. Congratulations to the following residents who presented posters at the meeting: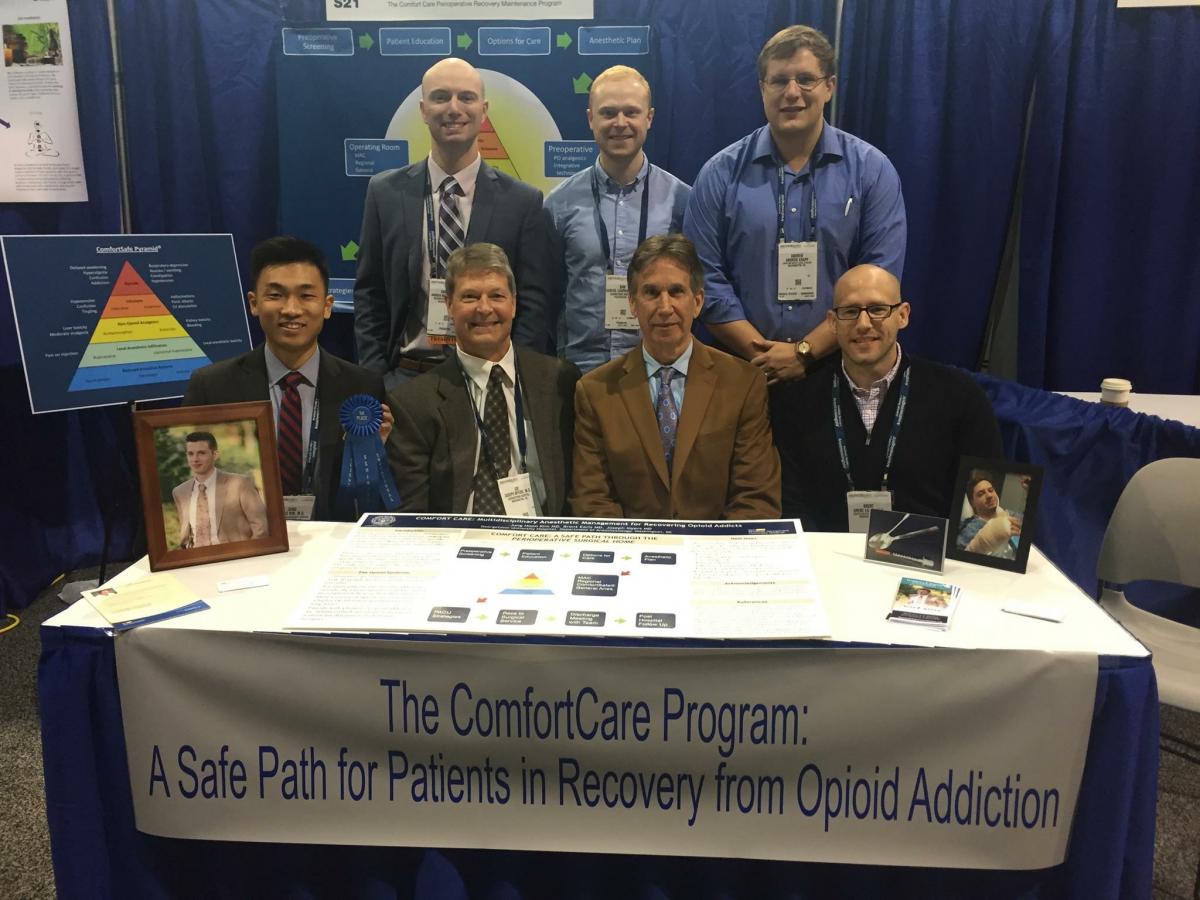 Brent Earls – "COMFORT CARE: Multidisciplinary Anesthetic Management for Recovering Opioid Addicts"
Liz Gauthier – "Point of Care Ultrasound (POCUS) Use During Pediatric Liver Transplant to Delineate Cause of Sudden Change in Peak Airway Pressures"
Jessica Ivey – "Preoperative and Intraoperative Management of Uterine Arterio Venous Malformation in Pregnancy"
Jung Kim – "COMFORT CARE: Multidisciplinary Anesthetic Management for Recovering Opioid Addicts"
Tiffany Minehart – "Vocal Cord Lateralization with Carbon Dioxide Laser to Facilitate Double Lumen Tube Placement in a Patient with Vocal Cord Paralysis"
Tiffany Minehart – "Anesthetic Considerations in a Patient with Mitochondrial Myopathy, Encephalopathy, Lactic Acidosis and Stroke-Like Episodes Syndrome (MELAS) During Period of Acute Neurologic Decompensation"
Katie Ramsey – "Thyroidectomy in a Pregnant Patient with Pseudocholinesterase Deficiency"
Omar Shairzay – "Creation and Use of a Cost-Effective Epidural Training Device"
Kurt Wagner – "A Concern for Necrotizing Fasciitis Status Post Femoral and Sciatic Perineural Catheter Placement with "Air Test" Confirmation: A Case Report"
Jason Toffey earned a MedStar SPIRIT award for exemplary patient care while on the Thoracic Surgery service.
Jeremy Becker signed with the USAP practice group in Denver, CO.

Congratulations to Jung Kim for his recent engagement.
Stephen Yang tied the knot last month – Congratulations Stephen and Sophie!

Upcoming Events
Benefits Open Enrollment: October 31 – November 16, 2017
Senior Resident Grand Rounds: November 16, 2017 – Omar Shairzay, MD
Influenza Vaccination Deadline: November 30, 2017
Residency Applicant Interviews: November 17, December 8, 15,19
Department Holiday Party: Saturday, December 2 – Maggiano's, Chevy Chase
Visiting Professor Grand Rounds: Thursday, December 14 – Jennifer Banayan, M.D., The University of Chicago Medical Center.
Senior Resident Grand Rounds: Thursday, December 21 – Raj Parekh, MD
Resident Wellness Event: Thursday, December 21
Anesthesia Knowledge Test 6: December 26 – January 5
In-Training Examination: Friday & Saturday, February 16-17, 2018
Resident Birthdays
November 21 – Omar Shairzay
December 7 – Mausam Kuvadia
If you have any items to include in future eNewsletters please email Edith or Dr. Freeman!